Gujarat Ministers List 2023 New List for All Departments Hindi, Gujarati
Gujarat Ministers List: There are various departments and ministers in a state. Recently we have witnessed the elections and the election voting in Gujarat, and the Bhartiya Janta Party, BJP won the elections with the maximum number of votes. Gujarat Ministers List and New List for All Departments can be checked here; kindly read the complete article.
Gujarat Ministers List 2023
Recently we have witnessed Assembly elections in Gujarat, where several parties took part in the election; the main focus is on three parties Bhartiya Janta Party (BJP), Congress, and Aam Aadmi Party (AAP). When the results are declared of elections on 8 December 2022, everybody will be amazed to see the number of votes that the BJP has won with. And now, we are here to check the Gujarat Ministers List; the new list of Gujarat ministers has not been disclosed yet by the government. Soon we will be going to see the minister's list of Gujarat. We will update the list whenever the list is released as soon as possible.
So when the Bhartiya Janta Party (BJP) won the election, they announced the name of the Gujarat CM that Bhupendra Patel would remain the CM. but in recent reports, it has been declared that CM Bhupendra Patel is going to resign from his post. And according to the sources, it is released that There will be 10-11 ministers, while 12-14 MLAs will be made ministers of state. Therefore the final list and names will be announced by the BJP in Delhi. Alpesh Thakor, who won the Gandhinagar South, is likely to be included in Cabinet.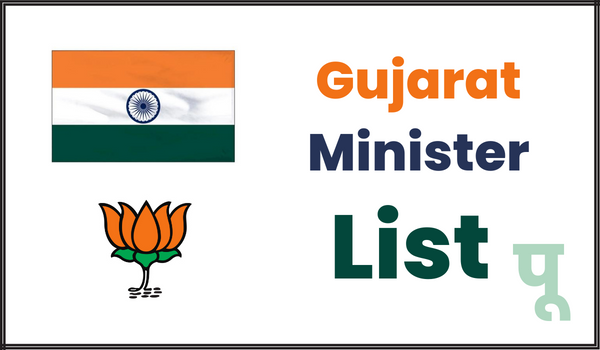 New List for All Departments Hindi, Gujarati
The official list of Ministers, according to the department, is not yet released, but we have a few names that are expected to be listed in the official list of ministers. The minister's list will be announced by the leadership of the BJP in Delhi, so we have to wait for the official announcement. The BJP has called out a meeting on Saturday morning with all the newly elected MLAs to discuss who will be the next leader as CM. Now let's have a look at the list of expected MLAs.
Anirudh Dave (Mandvi)
Shankar Chowdhary (Tharad)
Balwant Singh Rajput (Sidhpur)
Hrishikesh Patel (Visnagar)
Kanubhai Patel (Sanand)
Amit Thakar (Vejalpur)
Kirit Singh Rana (Limbdi)
Kunvarji Bavaliya (Jasdan)
Jayesh Radadia (Jetpur)
Raghavji Patel (Jamnagar Rural)
Mulubhai Bera (Khambhalia)
Kaushik Vekaria (Amreli)
Heera Solanki (Rajula)
Jeetu Vaghani (Bhavnagar West)
Pankaj Desai (Nadiad)
CK Raulji (Godhra)
Mukesh Patel (Olpad)
Vinu Moradia (Katargam)
Harsh Sanghvi (Majura)
Kanubhai Desai (Pardi)
Puransh Modi (Surat West)
Uday Kangad (Rajkot East)
Balkrishna Shukla (Raopura Vadodara).
It is also expected that Rambhai Vora, who won from Idar, is likely to be made the Speaker of the Legislative Assembly. On 12 December 2022, we witnessed Bhupendra Singh being sworn in as CM, but now he is resigning, so there is a question mark on the post of CM, who will be the next CM of Gujarat? Now let's discuss the departments. So we have provided you with a list of departments. Please have a look.
Agriculture & Co-Operation Department
Climate Change Department

Education Department

Energy & Petro Chemicals Department

Finance Department 

Food and Civil Supplies Department

General Administration Department

Home Department

Health and Family Welfare Department

Industries and Mines Department

Information Department

Labour and Employment Department

Legal Department

Legislative and Parliamentary Affairs Department

Narmada and Water Resources, Water Supply, and Kalpsar Department

Panchayats and Rural Housing Department

Ports and Transport

Revenue Department 

Rural Development

Science and Technology Department

Social Justice and Empowerment Department

Sports, Youth, and Cultural Activities Department

Tribal Development Department

Urban Development Department

Women and Child Development Department

Roads and Building Department
Forests and Environment Department
So here is the list of the department in which we will gonna see who will become the minister of which Department. Whenever the official list is released, we will update you.
Click Here to visit the Home Page.
Thank you for visiting our website and reading the article. You must check out our website if you want to read more content like this, articles related to elections, the latest news, exams, results, and government-related schemes. If you have any suggestions, then you can write them in the comment section. And do visit us again.