SSC GD Exam Date 2023 Test Timings, Venue & Exam Centers
SSC GD Exam Date 2023 Test Timings, Venue & Exam Centers and all the details regarding the exam are collected here for you. Check. SSC GD Exam Date 2023 is to be announced on the authentic site.
SSC GD Exam Date 2023
SSC GD Exam is going to be held in the coming month. The applicants want the date when the exam is going to be held. The SSC GD Exam Date is scheduled to be in March or April month this year. The exact dates are yet to be announced regarding the General Duty recruitment in CAPF and Assam Riffles.
The applications, as per the latest information through the notification by SSC, is Staff Selection Commission was initiated before 30th November due avoid network traffic. The applicants can check the notification regarding the dates by following the steps we have mentioned here. Sepoys will be recruited by the Narcotics Control Bureau through this examination.
SSC GD Test Timings 2023
The examination for the Constable(GD) in CAPFs as well as SSF, Rifleman(GD) in Assam Riffles and Sepoy will be held at the various centres present nationwide. The exam centres and the venue is shared in the official notification by SSC. The duration of the exam will be 60 minutes.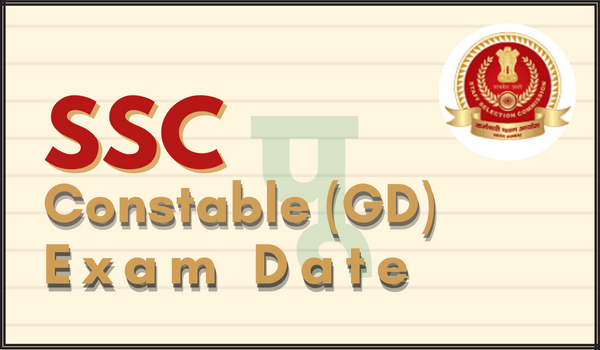 The exam is usually conducted in two shifts. There will be one in the morning and another in the evening. The dates and times are yet to be disclosed.
SSC GD Exam Venue & Exam Centers 2023
The detail regarding the exam venue is provided here. The detail is also available on the official portal of the Staff Selection Commission. The exam centre details are listed below check.
Examination Centres and Centre Code
SSC Region and States/ UTs under the jurisdiction of the Region
Address of the Regional Offices and their websites
Bhagalpur (3201), Darbhanga (3202), Muzaffarpur (3205), Patna (3206), Purnea (3209), Agra (3001), Bareilly (3005), Gorakhpur (3007), Jhansi (3008), Kanpur (3009), Lucknow (3010), Meerut (3011), Prayagraj (3003), Varanasi (3013)
Central Region (CR)/
Bihar and Uttar Pradesh
Regional Director (CR), Staff Selection Commission, 34-A, Mahatma Gandhi Marg, Civil Lines, Kendriya Sadan, Prayagraj – 211001. (https://www.ssc-cr.org)
Port Blair (4802), Ranchi (4205), Balasore (4601), Berhampore (Odisha) (4602), Bhubaneshwar (4604), Cuttack (4605), Dhenkanal (4611), Rourkela (4610), Sambalpur (4609), Gangtok (4001), Hooghly (4418), Kolkata (4410), Siliguri (4415)
Eastern Region (ER)/
Andaman & Nicobar Islands, Jharkhand, Odisha, Sikkim and West Bengal
Regional Director (ER), Staff Selection Commission, 1st MSO Building, (8th Floor), 234/4, Acharya Jagadish Chandra Bose Road, Kolkata, West Bengal-700020 (www.sscer.org)
Kavaratti (9401), Belagavi (9002), Bengaluru (9001), Hubballi (9011), Kalaburagi (Gulbarga) (9005), Mangaluru
(9008), Mysuru (9009),Shivamogga (9010), Udupi (9012). Ernakulam (9213), Kannur (9202), Kollam (9210), Kottayam (9205), Kozhikode(9206), Thrissur (9212), Thiruvananthapuram (9211).
Karnataka, Kerala Region (KKR)/ Lakshadweep, Karnataka and Kerala
Regional Director (KKR), Staff Selection Commission, 1st Floor, "E" Wing, Kendriya Sadan, Koramangala, Bengaluru, Karnataka-560034 (www.ssckkr.kar.nic.in)
Bhopal (6001), Gwalior(6005), Indore (6006), Jabalpur (6007), Satna (6014), Sagar (6015), Ujjain (6016), Bilaspur (6202), Raipur (6204),Durg-Bhilai (6205)
Madhya Pradesh Sub-Region (MPR)/
Chhattisgarh and Madhya Pradesh
Dy. Director (MPR), Staff Selection Commission, 5th Floor, Investment Building, LIC Campus-2, Pandri, Raipur, Chhattisgarh – 492004 (www.sscmpr.org)
Itanagar (5001), Dibrugarh (5102), Guwahati(Dispur)(5105), Jorhat (5107), Silchar(5111), Churachandpur (5502), Imphal(5501), Ukhrul(5503), Shillong(5401), Aizwal(5701), Dimapur (5301), Kohima(5302), Agartala(5601),
North Eastern Region (NER)/ Arunachal Pradesh, Assam, Manipur, Meghalaya, Mizoram, Nagaland and Tripura.
Regional Director (NER), Staff Selection Commission, Housefed Complex, Last Gate, Beltola – Basistha Road, P.O. Assam Sachivalaya, Dispur, Guwahati, Assam-781006 (www.sscner.org.in)
Dehradun(2002), Haldwani (2003), Haridwar(2005), Roorkee (2006), Delhi(2201), Ajmer(2401), Alwar (2402), Bharatpur(2403), Bikaner(2404), Jaipur (2405), Jodhpur(2406), Kota (2407), Sriganganagar (2408), Udaipur (2409), Sikar (2411)
Northern Region (NR)/
Delhi, Rajasthan and Uttarakhand
Regional Director (NR), Staff Selection Commission, Block No. 12, CGO Complex, Lodhi Road, New Delhi – 110003 (www.sscnr.net.in)
Chandigarh/Mohali (1601), Hamirpur (1202), Shimla (1203), Jammu (1004), Samba (1010), Srinagar (J&K)(1007), Leh(1005), Amritsar (1404), Jalandhar (1402), Patiala (1403),
North Western Sub-Region (NWR)/
Chandigarh, Haryana, Himachal Pradesh, Jammu and Kashmir, Ladakh and Punjab
Dy. Director (NWR), Staff Selection Commission, Block No. 3, Ground Floor, Kendriya Sadan, Sector-9, Chandigarh- 160009 (www.sscnwr.org)
Chirala (8011), Guntur (8001), Kakinada (8009), Kurnool (8003), Nellore (8010), Rajahmundry (8004), Tirupati (8006), Vizianagaram (8012), Vijaywada (8008), Vishakhapatnam (8007), Puducherry (8401), Chennai (8201), Coimbatore (8202), Madurai (8204), Salem (8205), Tiruchirapalli (8206), Tirunelveli (8207), Vellore (8208), Hyderabad (8601), Karimnagar (8604), Warangal (8603)
Southern Region (SR)/
Andhra Pradesh, Puducherry, Tamil Nadu and Telangana.
Regional Director (SR), Staff Selection Commission, 2nd Floor, EVK Sampath Building, DPI Campus, College Road, Chennai, Tamil Nadu-600006 (www.sscsr.gov.in)
Panaji (7801), Ahmedabad (7001), Anand (7011), Gandhinagar (7012), Mehsana (7013), Rajkot (7006), Surat (7007), Vadodara (7002), Amravati (7201), Aurangabad (7202), Jalgaon (7214), Kolhapur (7203), Mumbai (7204), Nagpur (7205), Nanded (7206), Nashik (7207), Pune (7208)
Western Region (WR)/
Dadra and Nagar Haveli and Daman and Diu, Goa, Gujarat and Maharashtra
Regional Director (WR), Staff Selection Commission, 1st Floor, South Wing, Pratishtha Bhawan, 101, Maharshi Karve Road, Mumbai, Maharashtra-400020 (www.sscwr.net)
The table above consists of the information that is provided in the notification regarding the exam centres.
How to Check SSC General Duty Exam Date 2023?
The candidates who have been waiting for the dates for the GD exam shall check it by the following process. The step-by-step process is as follows:
Step- 1 Start by going to the official website of the Staff Selection Commission (SSC).
Step- 2 On the home page, among the different icons presented, select the Notice icon.
Step- 3 As you click on it, the page will get updated with a new list of links regarding the SSC exam notifications conducted or to be conducted.
Step- 4 There click on the link that is:  Notice of Constable(GD) in CAPFs, SSF, Rifleman(GD) in AR and Sepoy in NCB Examination, 2023
Step- 5 As the PDF document opens, you will see all the required details that were not present in the previous notification.
Keep seeing MPHP.in to know and learn more regarding the latest happening around the globe. Share your views in the comment section.
Click here to go back.