Ekadashi Vrat December 2022 Katha, Puja Vidhi, Muhurt Check
Ekadashi Vrat December: The full name of the vrat is Mokshada Ekadashi Vrat and it will be on 3 December 2022. For more information regarding Mokshada Ekadashi Vrat please read the entire article because further, we will tell you about puja vidhi and katha etc.
Ekadashi Vrat December 2022
Ekadashi Vrat will be performed by the people who worship lord Vishnu. The upcoming Ekadashi Vrat December full name is Mokshada Ekadashi Vrat. As per the research according to the Hindu calendar, Ekadashi is the eleventh lunar day of each of the two lunar phases Shukla Paksa and Krishna Paksa. Hence, there are two Ekadashi days in a Hindu Calender.
Mokshada Ekadashi Vrat is considered the most auspicious and holy by the Hindus. It is believed that people who fast on Ekadashi with proper dedication and rules will be blessed by the Lord Vishnu with good health, prosperity, happiness and success etc.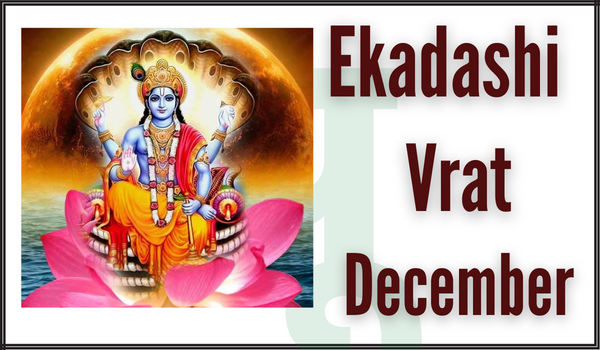 Ekadashi Vrat Katha
As per one of the legends associated with Mokshada Ekadashi there lived a kind-hearted king, who was humble, generous, and loved by his community. He was pleased with everything he was blessed with. However, one day, he had a nightmare. He saw his late father suffering in hell. Disturbed by his dream's ugly visuals, the King went for help from the learned Brahmins in his kingdom.
After learning about the King's dream, the Brahmins suggested that he must consult Parvat Muni (a learned sage), who alone could give the solution to his nightmare. Subsequently, the King visited Parvat Muni and get to know about a sin committed by his father during his lifetime.
And to get riddance from the shadows of the sin, the Sage asked the King and his entire family to observe the Vaikuntha or Mokshada Ekadashi Vrat. And soon after observing the vrat with utmost devotion and sincerity, the King was able to help his late father get rid of his sins. The king also got relieved from the troubles that started cropping up. In the end, the King's father attained Moksha.
Ekadashi Vrat Puja Vidhi
In India, many people do Ekadashi fast to worship Lord Vishnu because performing this fast can save the person after death and following Ekadashi fast with proper rules can help people on the spiritual path and help them attain Moksha. These are the few steps you have to follow in the Ekadashi fast, let's have a look.
Wake up early.
People traditionally take a bath in the rivers such as the Ganga or the Yamuna etc. But you can add a few drops of Gangajal to the bucket of water that you will use for bathing.
After bathing, wear clean clothes.
Light an oil lamp, place it on the altar and do Dhyana (meditation).
Chant Lord Vishnu's name and seek his blessings.
Do Sankalpa (pledge and align your thoughts with the divine).
Take Lord Ganesha's blessings so that you succeed in completing your vrat without facing hurdles. Lord Ganesha is hailed as Vighnaharta, meaning remover of obstacles.
Chant the Om Namo Bhagavate Vasudevaya Mantra with utmost devotion as many times as you can.
Offer water (Jal), sandalwood paste (Chandan), vermillion (Kumkum), raw rice mixed with turmeric (Akshat), natural scent (Gandham), flowers (Pushpam), holy basil leaves (Tulsi), incense (Dhoop), lamp (Deepam) and food (Naivedhyam) to Lord Vishnu. You may also prepare sweet preparation. You may even offer fruits, a brown coconut broken into halves, paan and supari and Dakshina (a few currency coins).
Read the Mokshada or Vaikuntha Ekadashi Vrat Katha.
Conclude the puja by performing the aarti (salutations with ignited camphor or Kapoor).
Ekadashi Vrat Muhurt Check 2022
Mokshada Ekadashi Vrat will be started on 3 December 2022 and the muhurt for the vrat will be starting on December 3, 2022, at 5:39 am and the Mokshada Ekadashi Vrat will end on 4 December 2022, at 5:34 am. So whoever is going to do fast can note this muhurt timing.
Click Here to visit our website home page.
Thank you for visiting our website and reading our article. For more such information related to festivals, fasts and other entertainment news keep reading our articles on the website we will update you here from time to time. If you like the article then do not forget to comment with your reviews and if you are having any queries write them in the below comment section and do visit us again.