PKL 9 Auction Date & Schedule, Retained Players list, Teams List
PKL 9 Auction Date & Schedule, Retained Players list, and Teams List is all provided here. Read the article to know more exciting news about the event. PKL 9 Auction Date & Schedule is available on its official site.
PKL 9 Auction Date
The news is out that the PKL is going to hit the fields as well screens for the Kabaddi Lovers. PKL 9 Auction Date & Schedule are provided on the site. The players are being auctioned by the various owners of the 12 teams representing different states of India. The teams will then be grouped accordingly.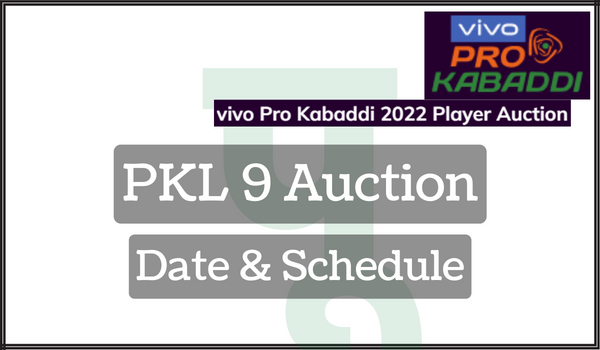 The PKL will begin on 7th October 2022 and will entertain the viewers till 8th November 2022. The auctions of the Pro Kabaddi League (PKL) were held in Mumbai, Maharashtra. The auction dates were 5th and 6th August 2022. The players of Season 9 are preparing day and night to fight the match to win the PKL Season 9 trophy. The schedules of the matches can be checked on the official portal as well.
PKL 9 Retained Players List 2022
The list of the Retained Young Players will be announced by the authorities for Season Nine. As per the news, approx. 111 of the players were retained to play from the 3 categories we have mentioned below. The players will be retained from three categories. As per the retention policy of the Pro Kabaddi League or PKL, the players can be retained by the teams from their respective squads from last season.
Retained Young Players
Elite Retained Players
New Young Players
Elite Retained Players:
| | |
| --- | --- |
| Bengal Warriors | Maninder Singh, Manoj Gowda K, Akash Pikalmunde |
| Bengaluru Bulls | Mahender Singh, Mayur Jagannath Kadam, More G B |
| Dabang Delhi K.C– | Vijay |
| Gujarat Giants | Sonu |
| Haryana Steelers | None |
| Jaipur Pink Panthers | Arjun Deshwal, Sahul Kumar |
| Patna Pirates | Mohammadreza Shadloui Chiyaneh (F), Sajin Chandrasekar, Neeraj Kumar, Monu |
| Puneri Paltan | Sombir, Abinesh Nadarajan |
| Tamil Thalaivas | Ajinkya Ashok Pawar |
| Telugu Titans | None |
| U Mumba | Rinku |
| U.P. Yoddha | Nitesh Kumar |
The table above mentions the team-wise list of the Elite Retained Players. They are selected for season 9 Pro Kabaddi League (PKL). The team franchise is allowed to retain around 6 players in the category of Elite Retained Players. The New Young Players can be retained for up to 4 only.
PKL 9 Bengal Warriors
Retained Players-
Maninder Singh
Manoj Gowda K
Akash Pikalmunde
Suyog Baban Gaikar
R Guhan
Parshant Kumar
Vaibhav Bhausaheb Garje.
Auction Buys-
Deepak Niwas Hooda
Ajinkya Rohidas Kapre
Girish Maruti Ernak
Shrikant Jadhav
Soleiman Pahlevani
Aslam Saja Mohammed Thambi
Ashish Kumar Sangwan
Vinod Kumar
Balaji D, Parveen Satpal
Amit Sheoran
Surender Nada
Sakthivel R
Shubham Shinde and Rohit.
PKL 9 Bengaluru Bulls
Retained Players-
Mayur Kadam
Yash Hooda
Rohit Kumar
Mahender Singh
GB More
Saurabh Nandal
Aman
Vinod Lachmayya Naik
Bharat

and Rajnesh.
Auction Buys-
Vikash Khandola
Nageshor Tharu
Lal Mohar Yadav
Sachin Narwal
Rahul Khatik
Sudhakar Krishanth Kadam
Neeraj Narwal and Harmanjit Singh
PKL 9 Dabang Delhi KC
Retained Players –
Naveen Kumar
Vijay Malik
Vinay Kumar
Krishan Dhull
Ashu Malik
Dipak
Manjeet
Suraj Panwar
Ashish Narwal and Vijay.
Auction Buys –
Sandeep Kumar Dhull
Vishal Lather
Md. Liton Ali
Reza Katoulinezhad
Amit Hooda
Anil Kumar
Ravi Kumar
Aakash
Tejas Maruti Patil and Monu.

PKL 9 Gujarat Giants
Retained Players:
Sonu
Rakesh
Gaurav Chhikhara
Sonu Singh
Sohit Malik
Parteek Dahiya and Rohan Singh.
Auction Buys:
Chandran Ranjit
Pardeep Kumar
Dong Geon Lee,
Young Chang Ko
Arkam Shaikh
Shankar Bhimraj Gadai
Rinku Narwal
Sourav Gulia
Sandeep Kandola
Vinod Kumar
Baldev Singh
Sawin, Purna Singh
Mahendra Ganesh Rajput
Ujjval Singh,
Kapil, and Manuj.
PKL 9 Jaipur Pink Panthers
Retained Players:
Arjun Deshwal
Deepak
Devank
Ankush
Sahul Kumar
Ashish, and Abhishek KS.
Auction Buys:
V Ajith Kumar
Sunil Kumar
Woosan KO
Reza Mirbagheri
Lucky Sharma
Nitin Panwar
Bhavani Rajput
Navneet, Rahul Chaudhari
Nitin Chandel, and Rahul Dhanware.
PKL 9 Teams List
The team list can be checked on the official portal of the Pro Kabaddi League (PKL). The PKL consists of 12 teams, they are representing their states as per the names given. Top Kabaddi players from India, as well as foreign, take part in the League held once a year. The Teams are as follows:
Bengal Warriors
Bengaluru Bulls
Dabang Delhi K.C
Gujarat Giants
Haryana Steelers
Jaipur Pink Panthers
Patna Pirates
Puneri Paltan
Tamil Thalaivas
Telugu Titans
U Mumba
U.P. Yodhas
Visit the stadium and support sports teams playing the native sport that has not got much recognition worldwide. Select a team or players you want to view playing their best and beating the defenders of opposite teams.
Thank you for visiting MPHP.in
Click here to go home page.