Defense Budget 2023 – Top 20 Defense Budget Wise Countries List
Defense is an important system that protects the public of the country from times of war and they give security by protecting our borders. Here in the article, we look after the total amount that is used in Defense Budget 2023 and discuss the Top 20 Defense Budget-Wise Countries List and other details read the full article to get the information about defense budget.
Defense Budget 2023
A nation's military is a Crucial asset. The military protects the citizens from foreign policies and domestic cold situations. Nation security is first priority and needs a large amount of budget to build and maintain. the spending that is used for the military is referred to as military spending or defense budget. In the year 2022, the world expend $1.981 trillion amount in defense.
The budget of the country varies according to the size and population of the nation. The main factor that describes the amount is the number of persons in the military. In the year 2022 India spends $70.6 billion which is approx Rs. 5,25,166cr. The majority of it goes into salaries that are 31% and 23% to pensions, and around 24% defence budget is allocated for weapons and equipment modernisation.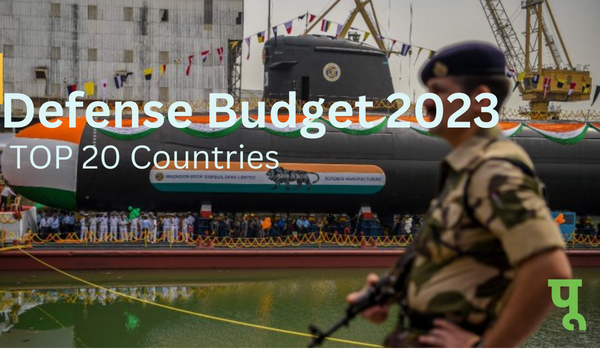 Importance of Defense Budget
As we talk about the military there are some nations that don't have any military and there is no need to expend an amount on defence. 36 countries globally don't have any military services. A majority of nations have a military to set up a protection unit for the nation. Many Nations have mandatory military services.
The United States has the highest military expenses in the nation. Its military expenses include all the Department of Defence's regular activity, war spending, nuclear weapon program, international military assistance and another Pentagon-related spending. In 2020 the US spent $778 billion on military spending which was more than the top 9 countries combined. It is a huge amount to pay for the defence.
Top 20 Defense Budget countries
The major spending in the defence department was done by the three countries globally that are US, China and India in the last few years. The defence budget is also crucial as the health and education budgets. Their only defence was to help the people at the time of war without defence no one feel safe in the country there is always the fear of attack by other countries and other anti-communist groups.
Here is the list of the top 20 countries that spend a lot of budget in purpose to give the maximum strength so the modern pieces of equipment can be upgraded.
United States – $761,681,000,000
China- $230,000,000,000
Russia – $822,600,000,000
India -$54,200,000,000
Germany – $52,332,500,000
Australia – $52,162,000,000
United Kingdom – $50,235,456,000
Saudi Arabia – $46,000,000,000
France – $45,943,325,500
South Korea – $42,100,000,000
Japan – $39,660,000,000
Italy – $37,000,000,000
Canada -$36,300,000,000
Ukraine – $30,000,000,000
United Arab Emirates – $25,266,000,000
Turkiye – $25,200,000,000
Israel – $24,300,000,000
Poland – $20,660,000,000
Brazil – $18,785,000,000
Taiwan – $18,310,000,000
Non-Defense Budget countries & Territory
as we are talking about military expenses and security there are some countries that didn't have any military services. List of the country which does not have military
Andorra
Aruba(Netherland Territory)
British Indian Ocean Territory (UK territory)
Cayman Islands(UK territory)
Cook Islands (New Zealand territory)
Costa Rica
Curacao(Netherland Territory)
Dominica
Falkland Islands (UK territory)
Faroe Islands(Denmark territory)
French Polynesia(French territory)
Greenland(Denmark Territory)
HongKong (China SAR)
Iceland
Kiribati
Liechtenstein
Macau(China SAR)
Grenada
Marshall Islands
Mauritius
Micronesia (Federated States of Micronesia)
Monaco
Montserrat (U.K. territory)
Nauru
New Caledonia (France territory)
Niue (New Zealand territory)
Palau
Panama
Puerto Rico (U.S. territory)
Saint Lucia
Saint Vincent and the Grenadines
Samoa
San Marino
Sint Maarten (Netherlands territory)
Solomon Islands
Svalbard (Norway territory)
Tuvalu
Vanuatu
Vatican City
India Defence Budget
India has emerged as one of the top five countries in spending in 2021. In the same year world, military expenditure also crosses $2 trillion for the first time. India's defence spending of $76.6 billion has been ranked the top third highest in the world in 2022. This was up by 0.9 per cent from 2020 and by 33 per cent from 2012.
India's Budget for defence is increasing per year asthmatically. Even amid the economic fallout, pandemic world military spending hits a record level. there was a slowdown in the rate of real-terms growth due to inflation. In nominal terms, however, military spending grew by 6.1 per cent.
Thank you for visiting our site dmerharyana.org.
we are here to help you ask any queries in the comment section we are glad to help you.  
Click here for the home page. To see the articles related to the latest news and other topics.